Lisa's Mental Wellbeing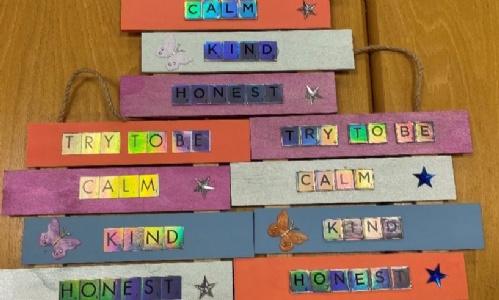 Miss Martin has been looking at new ways to help mental wellbeing. Well, what do we mean by mental wellbeing? The charity Mind states "Mental wellbeing doesn't have one set meaning. We might use it to talk about how we feel, how well we're coping with daily life or what feels possible at the moment". In our busy lives we can become overwhelmed, and it is important to find ways to help yourself relax and become calmer. 
Miss Martin has found that being creative is a great way to distract yourself from things that are causing you stress or anxiety. She painted and decorated these wooden signs to remind every one of our key values here in school. 
Not feeling creative? Here are some other top tips that might just help you when you need to de-stress. 
Get moving. A walk or a bike ride is the perfect opportunity to get some fresh air and clear your mind. 

Reduce your screen time. This one seems impossible we use our phones for almost everything. Yet our phones are bombarding us with information, and it can be a lot to handle. Try setting a timer and seeing how it feels to have a few hours without constantly checking your phone.  

Talking to someone you trust. This is perhaps the most important as bottling up our thoughts and feelings can lead to issues. Sharing our worries and concerns out loud can be daunting. Acknowledging our feelings can help us to deal with them better.