Meet TANB Staff | Mr Robertson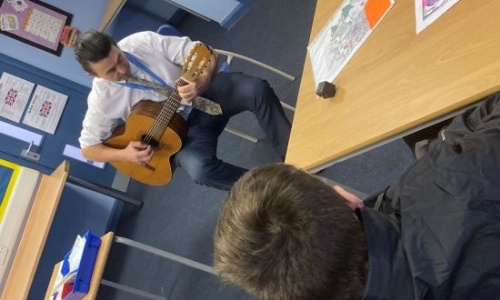 Each half term, we will be introducing you to a member of staff and getting to know about their life outside of work. This half term we would like you to meet our Deputy Head: Mr Robertson…
Mr Robertson is a Grandfather and Dad to three adult children. He got married to his wife in Jamaica.
Mr Robertson really likes Spain and his 3 cats. He said his passions in life are his guitar and Sunderland Association Football Club (SAFC). He has been in bands all his life and still plays live to this day.
Mr Robertson and his youngest son.
Mr Robertson at the Stadium of Light. He used to play for Sunderland boys – can you spot him?
Mr Robertson has worked at school for 8 years. Before that, he worked at Venerable Bede and Pennywell School. He also worked at Frankland Prison, where he taught English and music.
Mr Robertson's 15 minutes of fame… he and his brother met Prince Charles and Princess Diana.
Here is Mr Robertson with his friend, who all have similar hairstyles.
Today, Mr Robertson enjoys bringing his guitar into school and sharing his expertise with the learners. He also works closely with Sunderland Music Hub to bring Therapeutic Music Intervention to school.