Breakfast Club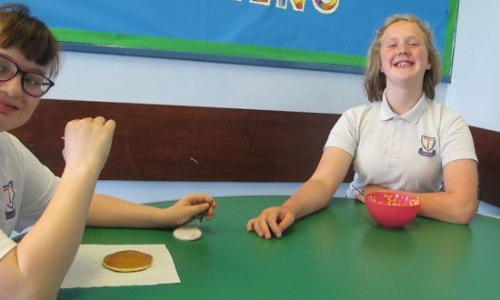 Every morning learners are welcomed into school and offered a healthy breakfast. We are lucky to have weekly donations of muffins, bread and crumpets from Warburton's. Learners also have the option of cereals and cereal bars.
"Lynsey makes the best toast." RH
"The food is done properly." Carl W
"I like the muffins with strawberry Jam." Luke S
"I like to have cereal in the morning." Kody
Ben comes into school early every morning to volunteer in the Breakfast Club, this is part of his Duke of Edinburgh Silver Award. Ben helps to make the drinks, arranges the napkins and helps with the washing up. "It is wonderful to have such a good helper on a morning, Ben arrives bright and early, he is always keen to help and is a great company." Mrs Shillaw - Pastoral Officer.
"I like to help out with breakfast club, I enjoy coming in early and helping to set up. I have completed my Bronze Award and working towards my Silver. Helping with the breakfast club is a good experience." Ben H.